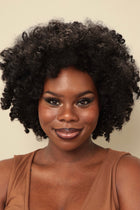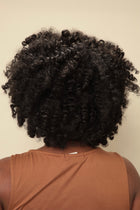 Description
Preorder item. Ships in a week.
Bri is a lace front wig, curls come styled for your convenience. Equipped with combs and adjustable straps. 
Comes in 1 natural color, human blend curly wig. Featuring and cute chic bob 8 inch layered. She's part synthetic which helps the Curlz last longer and age gracefully. The more you wear the more "you" she looks. Super soft texture and bounce. Extreme volume, super soft texture, lots of body and bounce. Be prepared to be showered with compliments!


How to wear:
Clean forehead. Properly set wig and secure by inserting front and back clips. Trim frontal lace along hairline, starting from bottom up on both sides. Tap or use glue ( or not)  for hairline security or create baby hair for a more natural look and blendBlend with matching skin tone make up for most incredibly natural hairline.


Caring for Your Curlz  
1. Gently shampoo in moderate temperature water. Rinse in cold water.
2. Squeeze excess water, drip dry DO NOT use external heat or brush when wet.
3. Use curling iron between 320- 360 F rolling hair for 10 sec. Allow fiber to cool.
4. For tighter curls with ceramic irons, please use paper on ends before rolling
5.Brush your curlz out for more styling options.

***NO FREE SHIPPING ON INTERNATIONAL ORDERS***

No Refunds available on hair, it can not be repackage and sold

Color Chart