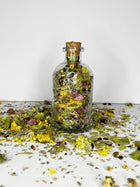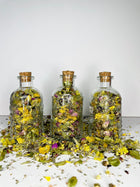 Description
Hey Goddess, it's time to treat yourself. If this your 1st time we recommend buying yourself some flowers to add to the bath. Dedicate the next hr to relax and manifest your dreams. Light some candles or a blunt and sip while/tea while you enjoy your spiritual bath. Use this time to reflect, brain storm or do absolutely nothing and meditate. Either way may this bath cleanse your mind, body and soul. Hope you enjoy every moment because the bath was made for a Queen 👑
 Comes with complimentary Palo Santo stick 
Ingredients & benefits: 

Roses - Beauty

Lavender- relaxation and aromatherapy. 

Hops Flower - Anxiety also very good in tea.

Himalayan salt- reduce fatigue, stress, and pain and increase feelings of contentment and emotional health
Life Everlasting flowers - also known as Helichrysum, is used to invoke ancestral spirits, promote physical healing and to increase intuitive and psychic powers. moisturizing and hydrating the skin. 
Hibiscus - associated with love and are said to be quite potent an aphrodisiac, as well as being useful in spells and rituals to attract love and lust. Also good in drinks/ Tea 
Eucalyptus-  used to bring fresh energy to a situation, to heal regrets and worries, and to relieve mental exhaustion. It is an excellent herb to use when someone or something is bothering you
Chrysanthemum -  stops bad moods, arguments, brings protection, love & joy
we're not responsible for any allergic reactions. DO NOT USE IF PREGNANT.