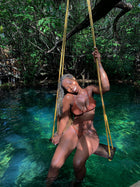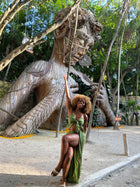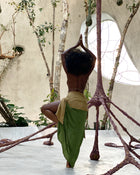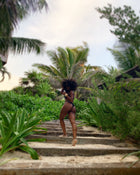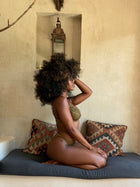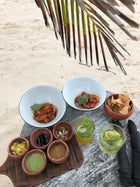 Description
Hey Goddesses,  I'm extremely excited about this retreat because this is going to be the 1st of many content creation trips! I'm counting down the days! The first stop is Tulum, Mexico of course 😆 I love this place because I've been literally 5 times within 3 years.  I know that so many of you women have fallen in love with my Tulum adventures and you're probably already planning a retreat of your own or experienced the magic yourself. 

This year is special because I'm extending the opportunity for 4 women to come with me on my next Tulum adventure 😊 Only 4 women join is because the Villa can only comfortably hold 5 guests max unfortunately. Also I don't want to spread myself too thin to ensure that I give the quality needed to each individual. This is also my 1st time traveling out of the country with strangers 😳 So be sure to understand  there will be a screening before hand to make sure we're both comfortable.

 On this trip I'll be teaching you all of my content creation tips and tricks from modeling, styling, scouting locations, creative concepts and photography! This will be helpful for models, bloggers/ Influencer and business owners. Everything you see me doing I'll happily share my knowledge with you. I think Tulum one of the most magical destinations ever, not only is it peaceful but it's only a skip hop and jump away from the US. The food and hotels are beautiful and so affordable. And I love that you can ride the bike everywhere! You can read more on my Tulum Blog to read more. 


The fee of $199.99 covers the curriculum for everything teaching you everything I know in regards to being content creator, model, photographer and business owner, basically your own boss. It'll also include one night in a luxurious villa. 
THIS DOES NOT INCLUDE transportation, flights, food or hotel. We're all adults here. You're responsible for your own safety. I'll be providing an itinerary with all meet up locations. 
Not only do we get to basically run around Tulum looking like models and enjoy the culture but we get to enjoy each other's company and form bonds and bring back amazing memories.  This is going to be so beautiful I can't wait to share this experience with you. I hope you leave this trip full and more at ease about your future. Good vibes only or else I'm out and NO REFUNDS.
 If you have any questions feel free to contact me phyliciab@icloud.com 
 Please email phyliciab@icloud.com or DM @phyliciabennn for dates