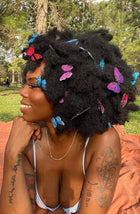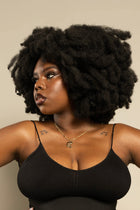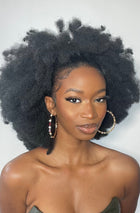 Description
Preorder! we know it's a long wait but at least you'll have it 
Let's get into this texture. 4c heaven! It's really giving Afrocentric vibes. Quick crochet kinky Fro also giving free form loc energy.  

What is the hair texture?
This wig is perfect for 4bc curl pattern. This is a synthetic kinky  full wig with the look and feel of genuine Human hair! With extreme volume, super soft texture and bounce. This wig is a huge fro so if you don't like big hair this isn't for you. We also don't recommend straightening it because it's meant to be a fro.  Comes with adjustable straps

How to maintain Curlz?
Revive your curls with a warm co-wash with whatever product you like after to restores curls back to its natural state! Curlz can be dyed and straighten but not recommended.

***NO FREE SHIPPING ON INTERNATIONAL ORDERS***
No Refunds available on hair, it can not be repackage and sold


Color Chart